12/26/11  Jury to decide JPL discrimination lawsuit
12/21/11 ATHEISTS APPLAUD DECISION BY TRAVIS AFB TO ALLOW ATHEIST DISPLAY
12/17/11  Christopher Hitchens  1949 – 2011 Click to read the Vanity Fair article
12/11/11  La Habra man accused of cruelly punishing teen at Irvine parents' request
12/10/11  Santa Monica nativity scenes displaced by atheist messages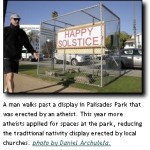 12/9/11  Rick Perry's Anti-Gay Campaign Video: Disliked By Over 300,000 People And Counting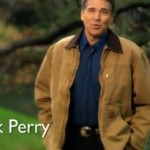 12/8/11   Koch Political Group Brags About Bullying GOP Lawmakers Into Denying Climate Science
12/7/11  Three GOP Presidential Candidates Sign Pledge To Investigate LGBT Community (although this news release is not atheistic, it represents how our politicians might restrict rights of non-believers in the future.  We should follow the LGBT's plight and learn from their actions)
11/30/11 UT professors object to creation institute's inclusion in charity list
11/24/11  Ray Comfort's Anti-Abortion '180' Film Billboards Rejected by L.A. Ad Companies
12/3/11  NASA to Announce New Alien Planet Findings Monday
12/1/11  Atheists, rapists top list of people religious believers distrust the most, UBC study finds
12/1/11  Woman says she was "imprisoned" on Scientology cruise ship for 12 years; church denounces her claim as "false"
11/25/11   Calif. Woman Promotes Government-Endorsed 'In God We Trust' Signs
11/24/11   NUMBER OF RELIGIOUS LOBBYING GROUPS IN D.C. IS UP FIVEFOLD
11/16/11  :Atheists in the U.S. military want to participate in the armed services' chaplaincy program
11/10/11  Religion and Obesity; Report Associates Religious Activity With Weight Gain
11/10/11 Nun Excommunicated Over Allowing Life-Saving Abortion Given Honors
11/8/11 Dobson: U.S. in 'trouble with God' if Obama reelected (with video)
11/5/11 Bankrupt church wants donations for pastors for pastor's sick wife ferried in limo
11/3/11  Yoga is the Work of the Devil
11/2/11  Let's talk to dead people! Alleged-medium James Van Praagh talks to dead people in Laguna beach Oct 19, 2011
11/1/11  Americans United Blasts Congress For Wasting Time On 'In God We Trust' Resolution
10/27/11 Misquote on Jefferson Billboards causes media stir. See the articles here:        ABC news (video).…….Huffington Post …..…OCRegister…... LA Examiner ….Christian Post…….  Google "Atheist Jefferson Billboard" and find 200 other articles.
10/13/11  American Cancer Society refuses $500,000 from atheists
9/27/11 Why young Christians aren't waiting anymore
10/13/11  Amen To Pastor Jeffress: Why The Dallas Bigot Is Doing Us All A Service
10/9/11  Richard Dawkins Event Banned by Michigan Country Club
10/4/11  Greek Orthodox church appears to be exempt from austerity measures
10/3/11 Worshipper rips out both eyes in Mass with his BARE HANDS
10/1/11 Rising atheism in America puts 'religious right on the defensive'
9/30/11 Mother Shayma Ali killed daughter, four, 'as sacrifice' for God
9/28/11 Saudi Woman Sentenced To 10 Slashes For Driving Car
9/24/11  Atheists 'Picket' San Diego Creation Museum Celebration  – Christian Post article LA Examiner article
9/24/11  Jail or Church for offenders – Is it Legal?
9/23/11 Two atheists billboards are up in the OC.  One in Garden Grove and one in Orange  See the homepage for more.  The Examiner article is HERE
More on the billboards  Calif. Atheist Billboards Lump Magic Underwear, Voodoo With Salvation
9/20/11 – New OC Register 'Political Pulse' polling project for non-theists open up. Join by clicking HERE Please add that you are a non-theist, atheist or agnostic.  The Register will email questions and compare your answers in a pie-chart format with other groups.
9/17/11  Atheist group to rip Bible pages in H.B. Video HERE. More HERE and the same article HERE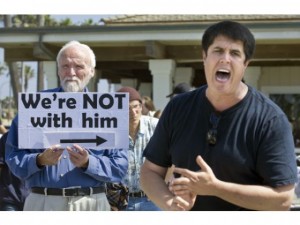 and also from BeliefNet The most comments in the OC Register and photos HERE. From Skeptic Logic HERE.Our purpose for our outreach programs is to let other skeptics and non-believers know there is a group for them in the OC.  In addition to this, we wanted to make a point about how immoral several Bible verses are – so we ripped photocopies of the verses in public while mentioning that there are also moral, good stories in the Bible, but are the stories good because they express a humanistic viewpoint, or are they good because the claim to be inspired by God? Youtube video HERE.  Washington Post article HERE
9/16/11  COURT RULES TEACHER MUST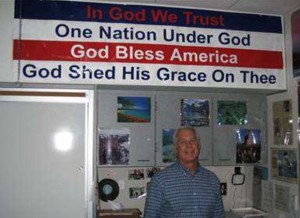 REMOVE 'IN GOD WE TRUST' CLASSROOM BANNERS. The God-focused banners, which the teacher put back up after his previous court victory, were again ordered to be taken down by the ninth circuit court of appeals.
9/15/11  AMERICAN ATHEIST LEADER CALLS FOR THE 'ERADICATION' OF 'FUNDAMENTALIST CHRISTIANS
9/16/11 Religious Right want Homosexuality a Criminal Offence
9/10/11  OK legislator claims homosexuality is "more dangerous" than terrorist attacks

9/1/11  Lesbian bishops get Christians killed in Africa
Atheists Object to Cross Displayed at World Trade Center
Read more: http://www.care2.com/causes/atheists-object-to-cross-displayed-at-world-trade-center.html#ixzz1WiR2GPdw
8/30/11 Pastor Compares Atheists To "Terrorists, Sex Offenders," Suggests National Registery
Older but ironic news Church altar crushes devout Catholic
8/30/11   CFI and CSI Petition FDA to Take Action on Homeopathic Drugs
8/30/11 California Science Center pays $110,000 to creationists to settle lawsuit
8/29/11 Rampant Denial About the Threat Posed By Christian Dominionists, Perry and Bachmann
8/28/11  Saudi Arabia tells clerics to stop issuing absurd fatwas
8/27/11   Meet Rick Perry's extremist comrades-in-prayer
8/25/11 Earthquake was God's judgement on America says World Net Daily Founder
8/23/11  FFRF ends football prayers in Mississippi, Kentucky schools
8/19/11 The Billboard off the 55 freeway has been getting some great press – It was #3 most viewed in the OCRegister and #2 most commented on.
OC Register's report on our new atheist billboard.
OC Register Video of the Billboard HERE.Daily Pilot's article HERE,
The PATCH article HERE, Ray Comfort's response HERE
and a good article about the billboard  HERE,  and on the Friendly Atheist site HERE
8/18/11 A Cosmos Sequel Hosted by Neil deGrasse Tyson!
8/14/11 Seeing creation and evolution in Grand Canyon
8/14/11 Religious Right outraged that US witheld aid to Malawi over sodomy laws
8/13/11 Court Blocks Voucher Plan That Would Fund Religious Schools In Colorado
8/3/11  Fort Bragg Officials Reverse Course, Approve Secular Festival "Rock Beyond Belief"
7/9/11 Austrian driver's religious headgear strains credulity
7/4/11 White House calls marriage law unconstitutional
7/4/11 Why U.S. is not a Christian nation
6/29/11 Why Is Jerry Falwell's Evangelical University Getting Filthy Rich off Your Tax Money?
6/29/11 Atheists should study gay political playbook
6/27/11 Michele Bachmann: Homophobe-in-Chief?
6/27/11Faith-Based Frenzy: Kansas Governor Preaches Religion As Solution To Social Problems
6/23/11 The nonbelievers come out
6/21/11 Americans United, Allied Groups Urge Obama To Restore Religious Liberty Protections In Federal Contracts
6/19/11 NBC apologizes for leaving 'under God' out of Pledge
6/17/11 Polluting The Pulpit?: Virginia Attorney General Urges (Right-Wing) Churches To Be Political
6/20/11 Still Divisible Under God: Supreme Court Opts Not To Review Pledge Challenge
6/7/11 Irish Church's Forgotten Victims Take Case to U.N.
6/7/11 Six in 10 Americans wouldn't vote for an atheist: Good news for New Atheists?
6/7/11 Court Lifts Prayer Ban At Texas High School Graduation
6/4/11 Atheists in Dublin for Religion Censure
6/4/11 More about the Dublin conference here
6/3/11 Governors To Solve Serious Problems Through Prayer!
5/16/11 Justices reject appeals on rendition, word 'God' in presidential oath – Newdow loses
6/1/11 Atheists Sue Little Rock's Transit Authority for Rejecting Godless Bus Ads
5/31/11 Anti-abortion laws proliferate in U.S.
5/30/11 Americans United Wins Case Challenging Graduation Prayer In Castroville, Texas
5/24/11 10 Failed Doomsday Predictions
5/24/11 Failed Doomsday Has Real Deadly Consequences
5/23/11 New Republic: No Rapture, Just Judgment
5/23/11 (local) Atheist tells high schoolers God is Evil
5/21/11 GOD Holds News Conference
5/21/11 Apocalypse believers await end, skeptics carry on
5/21/11 ATHEISTS OFFER PET RESCUE FOR JUDGMENT DAY/
5/19/11 Noah's Ark theme park gets go-ahead in Kentucky
5/17/11 Atheist, Christian students square off in debate
5/15/11 Atheists tackle religion at O.C. 'godless' conference
Atheist billboard generates heated reader debate – thousands respond
Atheist billboard goes up in Westminster
5/13/11 No Official Prayer Allowed At Upstate High School's Graduation Ceremony
5/12/11 Snapshot of a split America

Freedom From Religion's news site (always has the best updated atheist news)
5/10/11 24 hours to stop Uganda's anti-gay bill!
5/10/11 (article) A Former Jerry Falwell Follower Reflects On How The Religious Right Gets It Wrong
5/9/11 A California college is the first to offer a degree in secularism
5/6/11 California atheist billboard vandalized 3 days after going up
5/5/11 National Day of Reason proclamation read before Congress
5/4/11 Why do Americans still dislike atheists?
5/4/11 United Coalition of Reason launches a billboard in Westminster to promote the Orange County Coalition of Reason chapter
5/4/11 OC Register Billboard article 5/3/11 The 12 Worst (and Most Powerful) Christian Right Groups
5/3/11 It's Not a Sign from God: OC Atheists Spread the Word
4/26/11 Atheists Seek Chaplain Role in the Military
4/25/11 Atheists invade Florida's Polk County School Board meeting
4/24/11 Florida mayor disses Atheists for Easter
4/22/11 Tennessee's "monkey bill" on hold
4/18/11 Malaysia's anti-gay camp (audio file)
4/16/11 Stephen Uhl. Dr. Uhl is a former Catholic priest who left the Church and earned a Ph. D. in psychology
4/16/11 What can science say about atheism?
4/16/11 The world tried to ignore Terry Jones' "Koran trial"—until it incited deadly riots.
4/14/11 New abortion laws show Christian Right's continued power
4/14/11 Americans United Criticizes Appeals Court Ruling Dismissing Challenge To National Day Of Prayer
3/31/11 (LOCAL) Compass Bible Church ad banned in Aliso Viejo'
Youtube news clip here

Washington woman says Jesuit priest abuse 'every single day … was a nightmare'

4/13/2011 Florida Senate Judiciary approves repeal of church state separation

4/12/2011 Sask. marriage commissioners must wed same-sex couples

4/8/2011 Tennessee House OKs bill shielding teachers who doubt evolution, global warming

4/2/2011 12 killed in Afghanistan amid protests over reported Quran burning

3/30/2011 Why Christian Bigots' Use of the Bible to Bash Gays Is Blasphemous

3/30/2011 New Sex Abuse Scandals Plague Catholic Institutions — Will the Church Ever Change?

3/28/2011 Spreading the Good News About Atheism": Why We Need Atheist Ad Campaigns

3/28/2011 Evolution Less Accepted in U.S. Than Other Western Countries, Study Finds

3/29/2011 Who Wrote The Bible and Why It Matters

3/28/2011 Sharia brutality on a raped girl in Banglades

3/26/2011 70 Year-Old Stoned To Death Because The Bible Says To Stone Gays

3/25/2011 Praise the lard? Religion linked to obesity in young adults Weekly church activities boost obesity 50 percent by middle age, 18-year study shows

3/23/2011 Organized religion 'will be driven toward extinction' in 9 countries, experts predict

3/23/2011 "Hookers for Jesus": Former Sex Workers Spreading the Gospel

3/23/2011 House Repubs Vote That Earth Is Not Warming
See an additional article HERE

3/21/2011 Children being dipped three times into an ice hole on Epiphany will erase their sins

3/16/2011 Gallup poll indicates 7 of 10 Americans see religion losing influence

3/16/2011 Tokyo governor apologizes for calling quake divine retribution

3/12/2011 "Rock Beyond Belief" Festival At Fort Bragg CANCELED

3/11/2011 U.S. Supreme Court rejects atheist's appeal to remove God from government

3/9/2011 London imam subjected to death threats for supporting evolution

3/7/2011 Why Evangelicals Hate Jesus

3/7/2011 Anti-evolution/history/secular education in general bill filed in Florida

3/5/2011 Jewish groups outraged over an attempt to ban infant circumcision in San Francisco

8/1/2010 (old but worthwhile) The Slow, Whining Death of British Christianity

3/7/2011 (local) O.C. Islamic leaders call for district attorney to drop charges against student protesters

THE END OF THE WORLD IS ALMOST HERE! HOLY GOD WILL BRING JUDGMENT DAY ON MAY 21, 2011

3/3/2011 Opposition to antievolution bill mounts in Tennessee

2/28/2011 Foster parent ban: 'no place' in the law for Christianity, High Court rules in the UK

2/27/2011 Supreme Court rules First Amendment protects church's right to picket funerals

2/24/2011 Appeals court considers law crediting God for Kentucky's security

2/23/2011American Atheists wants apology from Billy Ray Cyrus

2/23/2011American Atheists wants apology from Billy Ray Cyrus

2/23/2011 Zachary Chesser, man who threatened South Park creators, sentenced to 25 years in prison

2/23/2011 Antievolution bill loses in committee in Oklahoma-

2/22/2011 High School Atheists Are Organizing — Why Are Schools Pushing Back?-

2/21/2011 Polk County sets bad precedent with arrest of Atheist –

2/16/2011 Giles Co. Ten Commandments suit will proceed

2/15/2011 SD bill 'license to kill' abortion providers

2/03/2011 6th Circuit: Ohio judge can't display Ten Commandments

2/03/2011 L.A. boy can use religious song at school talent show

2/11/2011 Report on abuse targets priests, teacher… and Cardinal Bevilacqua?

2/9/2011 Federal judge dismisses lawsuit that sought to block prayer luncheon at Air Force Academy

2/8/2011 Why teens, young adults are leaving American churches

2/4/2011 Secular Coalition Opposes Reaffirmation Of 'In God We Trust' as National Motto

1/30/2011 PZ's food for thought

1/30/2011 Tax Incentives for a Biblical Theme Park? (video)

1/26/2011 Onward Christian Soldiers … To Hypocrisy

1/25/2011 Cape Coral ejects Atheist for wearing t-shirt

1/21/2011 UNDER PRESSURE FROM ACLU, HAWAII SENATE ENDS DAILY PRAYER

1/21/2011 A second antievolution bill in Oklahoma

1/20/2011 Passions Flare as Council Votes for 'In God We Trust' Display in Lake Forest

1/20/2011 Deciding Lake Forest vote: 'In God We Trust' not about religion

1/18/2011 ALABAMA GOVERNOR SLURS NON-CHRISTIANS Atheists Denounce "Religious Chauvinism"

1/14/2011 Freshwater terminated- Recommendation in the Freshwater case

1/11/2011 Will God destroy California with an earthquake if Prop 8 is struck down?