Skeptics promote science.  In that vein we feel that the promotion of the plethora of facts supporting man-made global warming is needed and should be supported by skeptics so that science prevails over climate-deniers.
10 Reasons to take Climate Change seriously – now
This will convince anyone that Climate Change is man made.
1/21/16  Climate in Science and Engineering Indicators 2016
12/13/15  An analysis conducted by The Carbon Briefing 2011 found that 9 out of 10 of the most prolific authors who cast doubt on climate change or speak against it had ties to ExxonMobil.
11/1/15 Bernie talks about Climate Change
9/25/15   Polling 700 scientists on climate change
9/14/15 Republicans introduce resolution calling for action on climate change (a good thing)
7/12/1 5   Earth heading for 'mini ice age' in just 15 years, scientists say
4/17/15   Pope Francis throws the weight of his office behind tackling climate change
4/6/15  A revealing interview with top contrarian climate scientists
3/20/15  Things just got very hot for climate deniers' favorite scientist
3/13/15   NASA chief schools Ted Cruz for trying to downplay global warming research
3/12/15   "Dark Money" Funds Climate Change Denial Effort
3/1/15   A Threat by Degrees
2/26/15   Researchers think they've found a "gateway belief" that leads to greater science acceptance
2/23/15  New Documents Show Leading Climate Change Denier Is Full of Shit
1/29/15   Attention GOP Presidential Candidates: Winter Does Not Disprove Global Warming
1/20/15 Warming climate likely will change the composition of northern forests, study shows
1/19/15 Rampell: Dangerously in denial on climate change
12/4/14  Here's what your city will look like when the ice sheets melt
12/2/14  Interactive Rising Sea Map (zoom in to any coastal area)
10/14/14  Warmest year on record
7/24/14  Earth Is On The Cusp Of A Sixth Great Mass Extinction
7/14/14  Climate Science Students Bill of Rights
6/26/14   A Day In The Life Of Global Warming #ClimateChange   
6/6/14  Hidden Greenland canyons mean more sea level rise
6/1/14   Satellites see potential for major El Niño
5/24/14   West Antarctic glacier loss appears unstoppable
5/21/14   Pat Sajak calls global warming advocates 'unpatriotic racists,' sparks Twitter backlash  (see Climate Change news)
/7/14  Climate change is already affecting all of U.S., report says
3/31/14   Nebraska Scientists Refuse To Carry Out Climate Change-Denying Study
3/21/14  Rockies' wildflower season 35 days longer from climate change 
2/15/14  Long-term global warming trend sustained in 2013
2/5/14  Winter Heat Swamps Alaska
1/28/14  Watch 63 years of climate change in one horrifying GIF
1/14/13  Inhofe Admits He Only Denies Climate Science Because He Doesn't Like the Solutions
11/1/13   Researcher helps sow climate-change doubt
6/24/13  Alaska heats up
5/13/13  Increasing number of Americans believe climate change is real
5/9/13 Stunning 30-year timelapse shows earth's changing surface


4/11/13  Sea ice max continues downward trend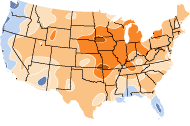 3/17/13  Not Even Close: 2012 Was Hottest Ever in U.S
2/13/13  How is Climate Change destrying the earth 
1/22/13  CO2Now.org
12/21/12  More than one-third of Americans see signs of end times in extreme weather
12/5/12  Accelerated Warming Driving Arctic Into New Volatile State
11/20/12  New Evidence of Human Fingerprints on Global Warming
10/27/12  Frontline's "Climate of Doubt" new documentary
10/14/12  Some climate scientists, in a shift, link weather to global warming
9/15/12  How will climate change affect food production?
8/30/12  Intriguing Habitats, and Careful Discussions of Climate Change
8/6/12  Research Links Extreme Summer Heat Events to Global Warming
7/28/12   High profile climate change skeptic reverses course
 7/18/12  Field test stashes climate-warming carbon in deep ocean
 6/29/12  Global Warming Skepticism Higher in U.S. and Britain than Canada
6/24/12   Voices: Defending science: The link between creationism and climate change
6/15/12  The Heat is On: U.S. Temperature Trends
6/10/12   Classroom Clashes (Pt. 2): Teaching climate change
6/9/12   South Korea surrenders to creationist demands
6/1/12  Creationism Commotion: Georgia Church Opposes Evolution In Science Standards
5/18/12  Climate Change in the American Mind
5/14/12  Big Antarctic ice sheet appears doomed
4/27/12  Chile glacier record retreat footage released
4/10/12  Resurfacing urban areas to offset 150 billion tons of carbon dioxide
3/13/12  Absolute evidence that Climate Change is caused by humans
2/29/12 Polling public opinion on climate change