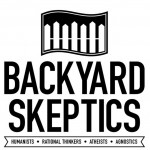 Attend our annual secular conference on May 3, 2014.
Attend the first Orange County Sunday Assembly May 4th in Fulleron.
Watch all of our debates On-Line for free
Just Added:  All the Humanist Association's lectures from their 2013 conference in San Diego.  Watch for free at the Streaming Tab above.
Backyard Skeptics is the largest skeptic/atheist organization in Orange County, California with over 1100 members in six different chapters.  We are active in advocating the position of non-belief and the support of church and state separation.   We are an active community of non-theists, skeptics, atheists, humanists and evidencialists (we need empirical evidence of any claim to accept it as true).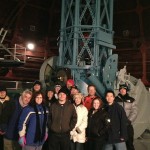 Besides our entertaining and enlightening monthly meetings (available to see on line HERE) , we also organize entertaining events  such as field trips to science-oriented events, movie nights, solstice parties, Skeptics at the Pub nights, camping trips (see pixs below) special dinner show events and local debates.  We also sponsor Orange County's only Freethought Conference on the first Saturday in May.
See our MEETUP page for all the interesting events we offer for the non-theist.  We've had over 388 past meetups!  You can join any one (or more) of our six chapters: Central OC (the main group) South OC, Long Beach, Los Angeles, Arcadia and Skeptics at the Pub.
Our News sections are updated almost daily – Recent News, Science, Politics, Church-State, Evolution, Climate Change and my favorite- Batshit Crazy News.  Check them out.
If you agnostic, atheist, or just on the fence about religion and looking for a community of non-theists, you're welcome to join our group.
Please consider contributing to our cause to make this a better world by expanding the influence non-theists have.  Our voluntary membership  is $20 bi-annual  or only $4 per month donation HERE.  This helps us support our annual conference in May, webpage costs, solstice parties and more.  See our donation page to make your contribution.  We are a 501(3)(C) organization and all donations are tax-deductible.
You can download and print our flyer HERE (pdf) or in Word HERE